Dr Bhekani 'Mbhexeshi' Buthelezi Touched by Support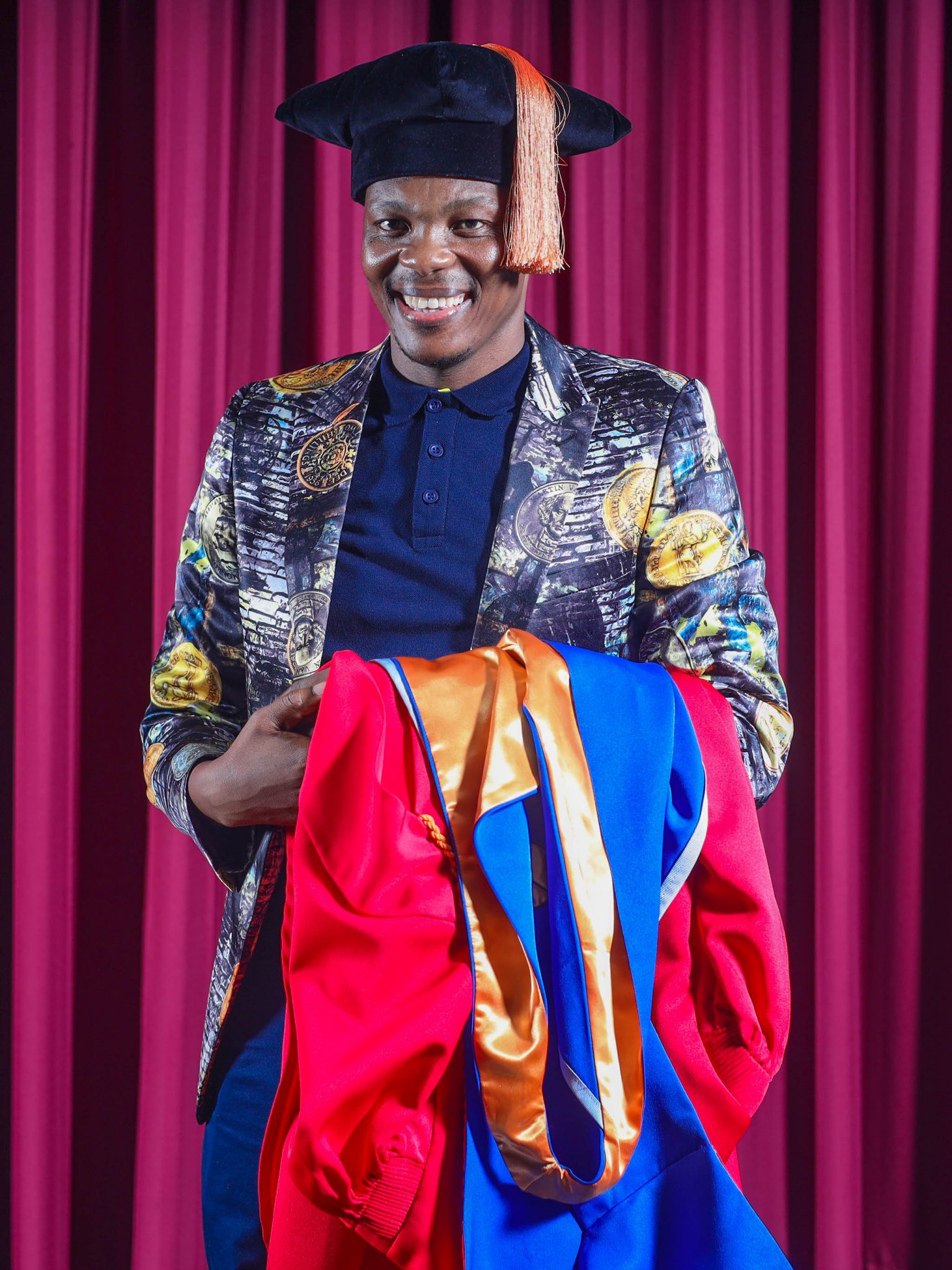 To this day, music maestro Dr Bhekani 'Mbhexeshi' Buthelezi (40), is still euphoric after reaching a milestone in his career – obtaining a PhD in his passion: music. In the same vein, Dr Buthelezi is overwhelmed and humbled by the heart-warming gesture of the University of Zululand (UNIZULU) community on his graduation.
"Seeing my family, especially my mother; my friends; my students; my colleagues and the university community ululating, shouting their hearts out felt so special. Even now I'm still reminiscing [because that was] one of the biggest days of my life," he said.
Dr Buthelezi was among the class of 2021 which was conferred degrees during the recent graduation ceremonies held at the iconic King BhekuZulu Hall. Born in Ulundi, North of KwaZulu-Natal and currently working as a music lecturer and choir conductor at UNIZULU, he was conferred a PhD degree in Music Education.
The title of his research is "Indigenisation of the Music Curriculum through Maskandi in Two Selected South African Universities". In the study, he is advocating for the inclusion of indigenous musical arts in the university curriculum such as maskandi, amahubo, ingoma, umakhweyana and gumboot dance as a learning programme. This stems from Dr Buthelezi's observation of the music curriculum in tertiary institutions. He noticed that it is dominated by a Eurocentric world view, and, as a result, students do not relate to the music they study. Dr Buthelezi is grateful for the tremendous support he received from his supervisors and believes it was their admirable supervising skills that motivated him throughout his PhD journey.
"I was so honoured to have had supervisors that understood my passion and guided me in academic writing, and also shaped but never diluted my ideas. I admire their supervision skills. Though it was frustrating at times, but the support kept me going," he said. The melomaniac has been in the music industry for 25 years. His recent accomplishment is an addition to a list of various achievements he boasts in his illustrious music career. This includes performing and teaching music in different countries such as United Arab Emirates, Germany, France, United States of America, Swaziland, Lesotho, Mozambique, Zimbabwe, Ghana and more; being a music researcher at university level; and working with prominent brands such as MTN Joyous Celebration. "If it was not for music, I would have been [doing] drugs, killed or in jail and I wouldn't have finished high school," Dr Buthelezi admitted.
He added: "That is how much music has shaped my life and kept me going. Music is life and life is music. I started music before I started school. I used to sing Brenda Fassie, Rebecca Malope, Lucky Dube and Mahlathini's songs before I started schooling. I sang gospel, isicathamiya, umbholoho, reggae and popular music. I was lucky to have a family that loved music, but I was a weird child in the village."
Mbhexeshi, as he is fondly known to the UNIZULU community, is adamant that his research will also help promote indigenous knowledges.
In conclusion, he said: "I would like to thank Mr Vusi Biyela, my former high school principal who believed in me for years, encouraging me to never stop no matter how difficult (my music journey may become); Mr Herman Oosthuizen, my adopted father who supported me from high school and always told me that one day I will be a Doctor of Music. My family, extended family, friends and colleagues for prayers and many kinds of support they have shown. It really meant a lot. Lastly, university choir supported me a lot in my honours and master's degree I get a lot of positive energy and encouragement from the choir."
– Samkele Sokhela