Be the Solution to the Country's Challenges, Duma Ndlovu Told Graduates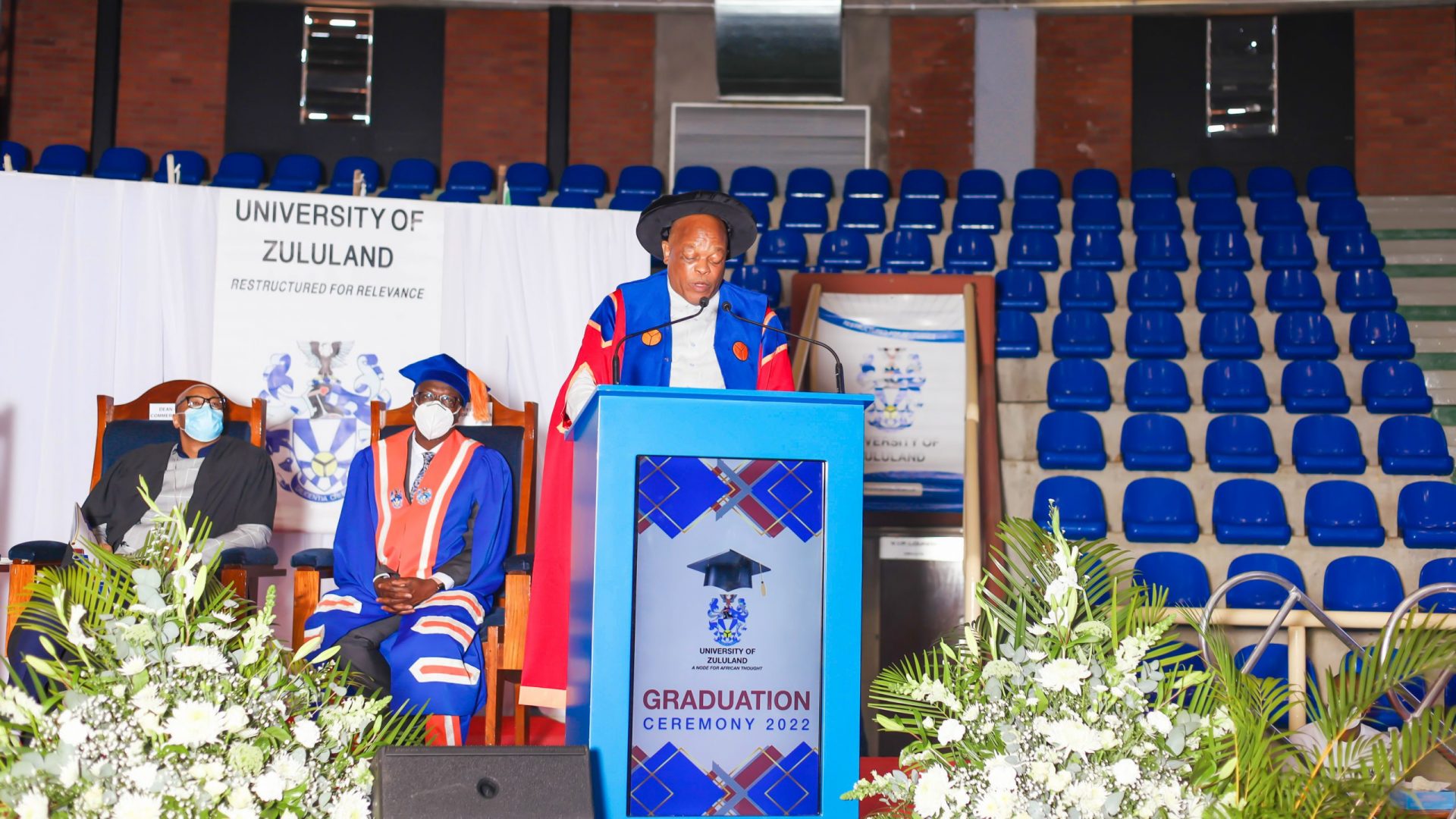 The time has come for South African youth to rise up and become solution bringers instead of waiting for others to solve the social ills currently affecting them.
This was the sentiment of Dumakude Mayivuke Ndlovu, a renowned playwright, journalist, anti-apartheid activist and one of SA's most successful filmmakers, as he addressed graduates in the University of Zululand's (UNIZULU) King Bhekuzulu Hall on Monday, 9 May 2022.
Ndlovu was awarded an honorary Doctor of Philosophy in Creative Arts (honoris causa) degree during the Faculty of Humanities and Social Sciences' first session.
The qualification was conferred in recognition of Ndlovu's invaluable contribution to the arts and culture sector. His experience in theatre, television and film spans over 20 years (combined). He began his career in theatre while in exile. He worked on theatrical shows and music festivals and was involved in the success of shows like Woza Albert, Asinamali (which he produced), Sarafina (as associate producer) and Bopha. He contributed immensely to the careers of iconic musicians such as Miriam Makeba, Hugh Masekela and Nigeria's Fela Kuti.
He broke into television upon his return to SA in 1992. His first major TV drama was 'Muvhango', the first ever Tshivenda drama to air on SA TV screens. Ndlovu continued to break new ground as he was instrumental in the introduction of the TV industry in Durban, KwaZulu-Natal. He created the popular isiZulu shows uZalo and Imbewu.
Humbled by the conferment, Ndlovu proudly admitted that it was a "dream come true" to be bestowed with such a high qualification. "Today, I join an august list of personalities who have been singled out by this institution for outstanding contributions to the collective [sectors] of this nation. Ladies and gentlemen, this august list includes the late icon and first president of the democratic South Africa Nelson Mandela. It includes the late iSilo samabandla onke, the late King Zwelithini ka Bhekuzulu. It includes the former president, Jacob Zuma… I am in excellent company," said Ndlovu, adding that he felt honoured to be counted among so many of the country's giants.
He paid homage to his late paternal grandmother for instilling the love for the Zulu language from a young age. His grandmother ensured that they never forgot the names of their forefathers. Her words reverberated in his mind and were major influences in a variety of his literary works. He also acknowledged his mother for her admirable display of love for her Swati culture until her demise. Watching her speak her mother tongue proudly inspired Ndlovu to also speak his language with pride and to embrace his Zulu culture.
To the graduates, Ndlovu said a fresh way of thinking was needed as graduating these days no longer guaranteed employment. "Black child, you are on your own," he reiterated Steve Biko's famous words, hoping to give the graduates food for thought.
He emphasised that it was now time to think outside the box and start devising a plan to take our country to the next level.
"Our country needs a surge of new thinking. Our country needs an injection of young minds that will revolutionise [the current state of the country]. Most importantly, our country needs an infusion of new leadership… It is clear that strategies that have been employed over the years to drive the economy and create employment are not working. The numbers of unemployment keep rising. It is definitely time to start a conversation on how we can turn things around," Ndlovu said.
He added, "We hope among this year's graduates can be found some of the most needed leaders of tomorrow. We need committed and passionate young people, committed to making a difference and passionate about what they do. Passionate about their country and passionate about their future and the role they will play in steering the country forward."
Finally, Ndlovu expressed gratitude to UNIZULU for the recognition, saying he takes this gesture as an invitation to join hands with the institution to help bridge the gap between educational and the creative arts.
– Naledi Hlefane
Caption
Honorary degree recipient Dumakude Mayivuke Ndlovu delivering a moving speech after being conferred an honorary Doctor of Philosophy in Creative Arts by the Faculty of Humanities and Social Sciences.