Be Local but Think Global: Siba Urges Students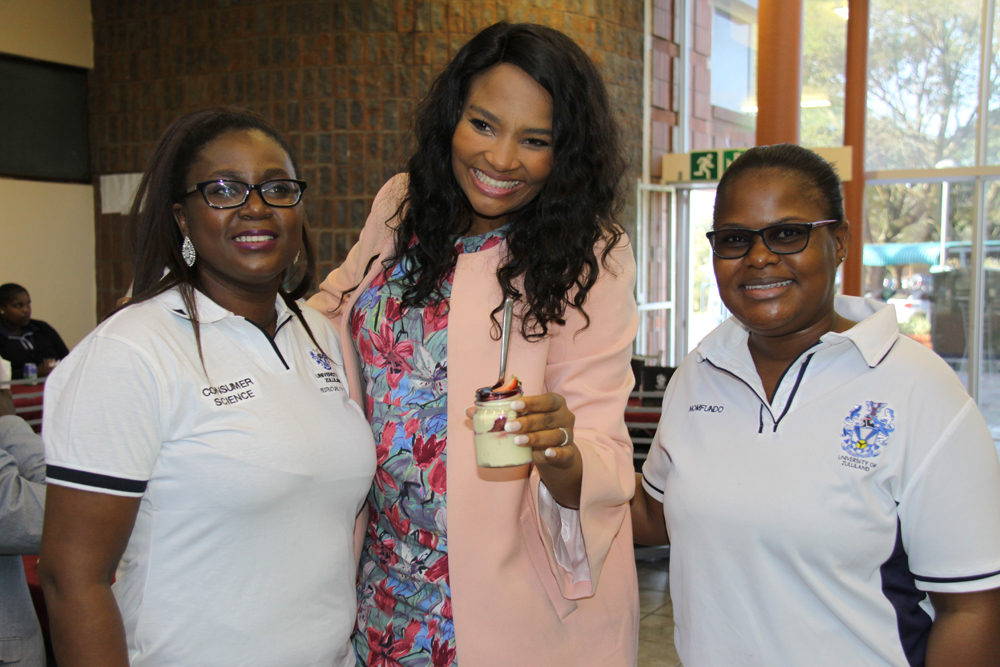 It was a mind-blowing experience for UNIZULU students as celebrity chef, Siba Mtongana visited the University on Friday last week (21 July 2017).
Hosted by the University's Consumer Science Department, the visit was held at the KwaDlangezwa Campus and featured mini competitions, an awards ceremony as well as a motivational talk by Siba, the Queen of Convenience Food.
Siba is a passionate and dynamic food enthusiast who brought style and charisma to South Africa television food scene. She is well known for her show Siba's Table on DStv's Food Network channel which debuted in September 2013 and was an instant hit worldwide. The show is now broadcast in more than 130 countries in Europe, the Middle East, Africa, USA, Australia and Asia.
Upon her (Siba) arrival at UNIZULU, a sense of euphoria engulfed in the crowd, with both students and staff loudly chanting the chef's name in sheer excitement.
"We are hoping that our students will be able to think bigger and better understand their chosen profession in Consumer Sciences through today's (Siba visit) event," said Professor Unathi Kolanisi, UNIZULU Consumer Science Department HoD. "We are also attempting to boost the self-esteem of our students and are hoping that today's experience contributes towards shaping their graduate attributes," he said, adding that Siba was chosen to visit the department because she is a consumer scientist by profession. "She is one of the few Black South Africans who has managed to put the profession on the map. She is a trendsetter in interfacing indigenous foods with modern foods. As a department positioned in a rural community, we have prioritised interfacing indigenous food systems with those that are modern. We are hoping that her visit will bring enthusiasm to our students to understand and value the integration of indigenous aspects into our curriculum," said Kolanisi.
Delivering her address, Siba encouraged students to be "opportunity-takers" as well as avoid letting challenges and family hardships stop them from reaching for their dreams. "Have a good heart and be a bookworm. Be the stupid one who doesn't go to parties and clubs. Be passionate. Have dreams. Take opportunities because sometimes they come once," Siba told students. "As Consumer Science students, let your mind grow beyond KZN, beyond South Africa and Africa. Think at a global level because that's where the world is. Be glo-cal (informal phrase for global and local) so you can be competent," said Siba, also advising students to be creative and see value in themselves. "Be real. Produce something local. But, make sure that you take it to the next level by adding Va-va Voom to it. Be proud of being South African. Be unique," she emphasised.
The competition also saw students from KwaDlangezwa and Richards Bay campuses compete against each other in the Best Cook competition, with Team KwaDlangezwa emerging victorious.
Students who excelled during last semester were also honoured during the event.
Luyanda Mthembu, a student, applauded the Department for making the event possible and said that the event comes at a right time as they are about to prepare for final examinations. "Having high profile guests is very motivational for us as students because it shows us, as a rural-based institution that we are capable of producing students of Siba's calibre," said Mthembu.
Professor Nokuthula Kunene, Science and Agriculture Faculty Dean expressed gratitude to the Faculty team, Consumer Science HoD and further revealed that the Department is in the process of opening a restaurant which will benefit the students on how to run a business.
– Samkele Sokhela