Alungile Langeni: Destined for Greatness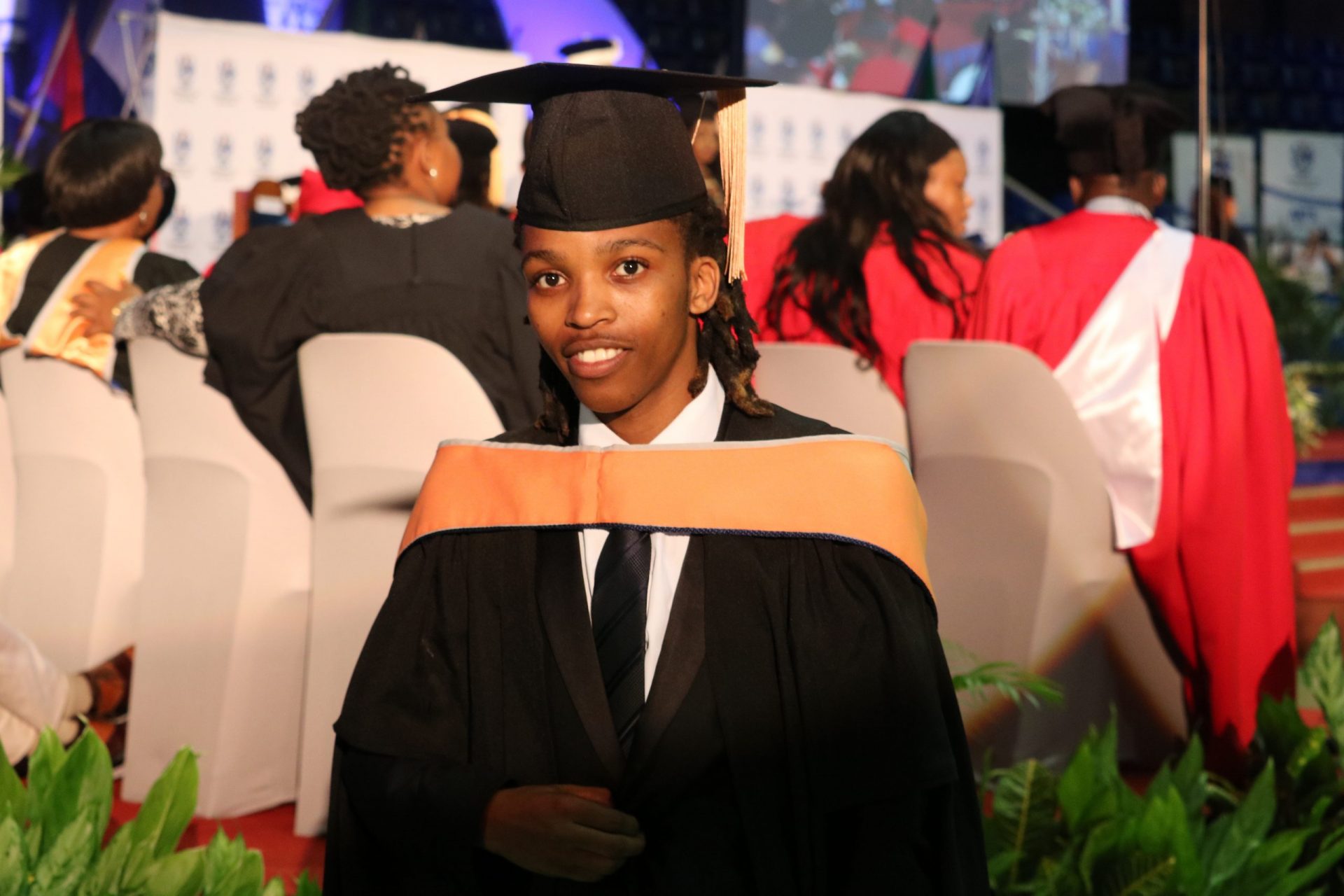 A university's greatest achievement is producing high-calibre graduates who, apart from possessing traits of leadership, empathy and compassion, will make significant contributions to the development of the country. Alungile Dalubuhle Langeni, who graduated with a Bachelor of Arts in Industrial Sociology at the University of Zululand (UNIZULU) on Wednesday, 15 May 2019, is an example of this type of graduate.
Affectionally known as "Salby" to his lecturers and peers, Langeni's degree was conferred with a distinction.
The last born of five children, Langeni spent his early childhood in the herbaceous foothills of Flagstaff in the Eastern Cape province. In 2012, his mother moved him from the family home to stay with her in her workplace in Margate, KwaZulu Natal. This is where he was exposed to an environment that sparked his interest in sociology.
His single mother, who struggled to make ends meet, was largely underappreciated by her = employer at the time. This motivated Langeni to register for an Industrial Sociology degree at UNIZULU in 2016.
"I have always had a passion for helping people in need and watching the conditions that my mother underwent really motivated me to find a way to help her and others who are in a similar position. Workers who are naturally talented but lack the educational qualification in the vocational industry are subjected to extreme mismanagement and abuse by their employers," said Langeni.
During his time at UNIZULU, Langeni made certain to surround himself with friends and mentors who could add significant value in his life. People who inspired and supported him include the late former UNIZULU SRC Secretary General Mduduzi Mnqayi. While striving for academic excellence, Langeni also engaged in extracurricular activities such as softball, while also tutoring to hone his communication and teaching skills.
Reminiscing on interactions with her former student, Dr Simangele Cele, Senior Industrial Sociology Lecturer, said she enjoyed teaching Langeni because he was a very attentive student who took great pride in his work and always volunteered to assist others who were struggling.
"Salby is an outstanding human being. He is selfless, humble and a resourceful critical thinker. I strongly believe that he is the kind of true role model that young South Africans should aspire to become," said Dr Cele who added that she will not be surprised if she one day sees the graduate on television in a leadership position.
Langeni is currently studying towards his Honours in Industrial Sociology/Journalism and Media Studies at Rhodes University.
– Hlumelo Nyikana
Caption
An overjoyed Alungile Langeni after receiving his Bachelor of Arts in Industrial Sociology on Wednesday, 15 May 2019.