From Salesman and Cook to Top Achiever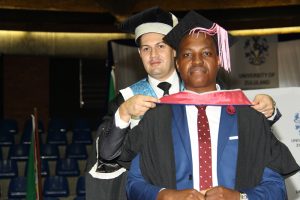 After passing matric with flying colours, Mondli Buthelezi, was forced to abandon his dreams of furthering his dreams through further study to a life of working as a salesman and later, as a back griller at one of the country's popular fast-food outlets.
This despite the fact that Buthelezi, who managed to secure 14 distinctions during his Bachelor of Education studies at the University of Zululand (UNIZULU), passed his matric with an average mark of 75%.
Seeing this unacceptable situation, Buthelezi's maternal aunt took matters into her own hands and helped him apply for study at the University of Zululand. His aunt's actions, coupled with Buthelezi's tenacity and appreciation for hard work, has led the 24-year-old to be named as one of UNIZULU's Faculty of Education's Top Achievers during the University's Graduation Ceremonies scheduled to take place from 8 May 2017 to Friday, 12 May 2017, at the University's King Bhekuzulu Hall, KwaDlangezwa Campus, KwaDlangezwa. Buthelezi will graduate during the Faculty of Education's first graduation scheduled to start at 9h00.
"After I matriculated, I was forced to take a gap year because my family could not afford to send me to university. In truth, I had no plans when I finished matric because I was aware of my family's poor financial situation. The saddest part is the fact that while I was in matric, I was in a study group and I tutored many of my peers and when we matriculated, all of the people who were in my study group got bursaries and I didn't. When my aunt applied for me (to study at UNIZULU), I didn't take the matter seriously as I had given up on my dream of going go to university because of my financial situation and the fact that I was had a job and was helping to provide for my family" said Buthelezi, who would later be accepted into the University's Education Faculty as a B. Ed student.
Fully aware of the unfavourable possibilities of a life without education, Buthelezi relied on hard work instead of his smarts to get his degree. During his time as a university student, he also made sure that he aligned himself with friends and peers who would be a positive influence. "I worked very hard when I got to UNIZULU. My two friends and I also had friendly competition between us to see who would get better marks and we are all graduating with good marks, so I am very excited about being one of the top achievers in my faculty. It's all I've ever wanted since I enrolled for my degree," he said.
He advised children from poor families to not give up on their dreams simply because of their poor financial circumstances. He also urged other young people to not squander opportunities given to them. "If God gives you an opportunity, use it wisely. Don't waste it. Hard work pays off. It's not about how smart you are but how hard you are willing to work to get what you want," he said.
A high resolution picture of Mondli Buthelezi will be available shortly after his graduation at 9h00 on Monday, 8 May 2017.
For interviews with Buthelezi, please contact him on 073 289 0949.
Issued by:
Sinegugu Ndlovu
Public Relations Manager
University of Zululand
035 902 6665
NdlovuSP@unizulu.ac.za
Sinegugu.ndlovu198510@gmail.com