A new dawn for tertiary education in KZN
SAICA celebrates significant progress by KZN universities to deliver quality chartered accountancy education  
One of the major reasons people cite for relocating to South Africa's two major metropolitan provinces – Gauteng and the Western Cape – is their perceived abundance of opportunity. But with two significant changes in the tertiary education landscape of the KwaZulu-Natal province, this no longer needs to be the case for students who wish to pursue a chartered accountancy career.
Two specific developments make the difference: The recent accreditation of the University of Zululand's (UNIZULU) BCom (Accounting Science) undergraduate degree; and the rerating of the University of KwaZulu-Natal's (UKZN) SAICA-accredited BCom (Accounting) under- and postgraduate degrees to that of Level 1.
The benefits of these two accreditation stories extend far beyond these institutions and their students. 'With the availability of accredited CA-stream BCom degrees at both of KwaZulu-Natal's universities, it means the province's aspiring chartered accountants (CAs[SA]) no longer have to move to other provinces to pursue a career in chartered accountancy. This will help keep talented individuals from migrating to other city centres to find work and this will, in turn, assist in boosting KZN's economy,' comments Chantyl Mulder, SAICA's Executive Director: Nation Building.
Thanks to these recent developments, aspiring CAs(SA) now have the option of pursuing a SAICA accredited CA-stream undergraduate degree at 19 institutions around the country. This, says Mulder, is a fact that SAICA is extremely proud of.
But, adds Mulder, the real win is this: 'The addition of UNIZULU to our list of accredited university programmes means that five of SA's six Historically Disadvantaged Institutions (HDIs) have achieved SAICA accreditation for their undergraduate BCom CA-stream degree (three of these HDIs are also accredited for their postgraduate programmes). When the final HDI achieves SAICA accreditation, which we expect to take place within the next 18 months, it will be a crowning moment in SAICA's 16 year long HDI capacitation project which we established to ensure that the organisation contributes directly to ensuring that there is sustainable capacity in the rural communities of South Africa to provide the same quality of education available in the rest of the country. This achievement would not be possible without the ongoing partnerships between SAICA, the universities and donors such as the Banking Sector Education and Training Authority (BANKSETA).'
What is SAICA accreditation?
SAICA accreditation occurs over and above other regulatory requirements from the Department of Higher Education and Training and tertiary institution quality assurance body, Council for Higher Education (CHE).
Mandi Olivier, SAICA Senior Executive for Professional Development, explains: 'The SAICA accreditation process is a rigorous and extensive one. In order for a university programme to achieve accreditation from SAICA, we undertake a rigorous academic review process to assess whether the university's specific programme(s) leading to the CA(SA) designation have the necessary resources in place —financial and other—to deliver a quality programme.'
The purpose of the accreditation process is to establish that the criteria for a SAICA accredited academic programme are being met, and that they also meet the CHE definition of being a 'purposeful and structured set of learning experiences that lead to a qualification'. In so doing, SAICA seeks to establish whether or not the programme meets the appropriate national and international educational standards of an entry level chartered accountant [CA(SA)], and ensures the delivery of competent CAs(SA), who have developed the relevant skills, for the market place.
Yet, SAICA does not simply accredit a programme and move on. An essential element of accreditation is that of ongoing partnership and monitoring of standards with the provider. Our focus in on ensuring the chartered accounting programmes are continually improved to remain relevant and produce high quality graduates who are employable.
Hence, adds Olivier, 'SAICA assesses and monitors the relevant programmes of higher education institutions/universities on an annual basis.  This is done through a process of annual self-evaluation by each provider or university offering an accredited programme, and through a monitoring visit at least once during every five-year cycle. The third accreditation and monitoring cycle commenced in 2016, and it was during the recent monitoring visit that UKZN was able to demonstrate significant improvement in some of the key criteria enabling SAICA to re-rate its programmes from a Level 2 (accredited but requiring improvement) SAICA-rating to Level 1 (full accreditation).'
Speaking on the successful turn-around strategy implemented by the UKZN School of Accounting, Economics and Finance in response to concerns raised around the low throughput rate, the School's Dean and Head, Professor Mabutho Sibanda, said bilingual tutorials and other interventions were introduced to accommodate English and second language speakers. In addition, financial assistance is made available in the form of bursaries, and funds for textbooks to students from disadvantaged backgrounds.
'The School has also increased the number of tutorials sessions, introduced motivational talks and encouraged students to use the services of UKZN educational psychologists,' said Sibanda. 'We are pleased that these interventions are bearing fruit especially when it comes to the improvement of the CTA (honours degree) throughput rates which have increased from 38% in 2016 to 49% in 2017. Another improvement worthy to note is the rise in the number of students enrolling in the CTA programme which has increased from 248 in 2017 to 373 in 2018. Moreover, UKZN students excelled in the January and June 2018 sitting of the Initial Test of Competence (the first of two qualifying CA exams) which proves that we are headed in the right direction and can be proud of the work we are doing as a School,' he said. 'All these interventions will enable UKZN to contribute meaningfully to the transformation of the Accounting profession.'
UNIZULU's Vice Chancellor, Professor X Mtose said about the institution's newly accredited undergraduate degree: 'It is this heritage that inspires us to ensure that UNIZULU attracts the best students regardless of circumstance or background. It is this legacy that enables us to offer students a wide range of experiences that will enrich their learning, and options that will make their study relevant and rewarding. UNIZULU graduates must forever be well educated to prosper in our evolving world.'
Far-reaching benefits for the province's economy
Almost 1100 SAICA trainees in KZN are currently in the process of completing their three-year training contracts, which represents the final stage in the seven-year journey to becoming a qualified CA(SA). According to the SAICA database, this makes KZN the third-largest provincial training ground for aspiring CAs(SA).
With the province's GDP contribution making it the second-largest economic powerhouse in the country after Gauteng, this means that there is now even more reason for local CAs(SA) to stay in the province. 
'Through capacity-building projects like that for UNIZULU and ongoing partnership once accredited like that for UKZN, not only are the young people in the province being provided with quality education and the chance to become a CA(SA), but we are contributing towards the National Development Plan's transformation initiatives by increasing the number of black CAs(SA) in South Africa,' concludes Mulder.
'Both UNIZULU and UKZN have taken large strides in creating a way in which our students are able to have a path to the economy – not only locally but nationally and internationally. On behalf of SAICA, we offer huge congratulations to both institutions for all the hard work and effort (over the last few years) in achieving the different levels of SAICA accreditation,' Akash Singh, SAICA Eastern Region Council representative.
The old saying goes that 'the grass is always greener on the other side'. And when it comes to gaining the chartered accountancy [CA(SA)] designation, the 'grass' in KZN is a tantalising shade of emerald.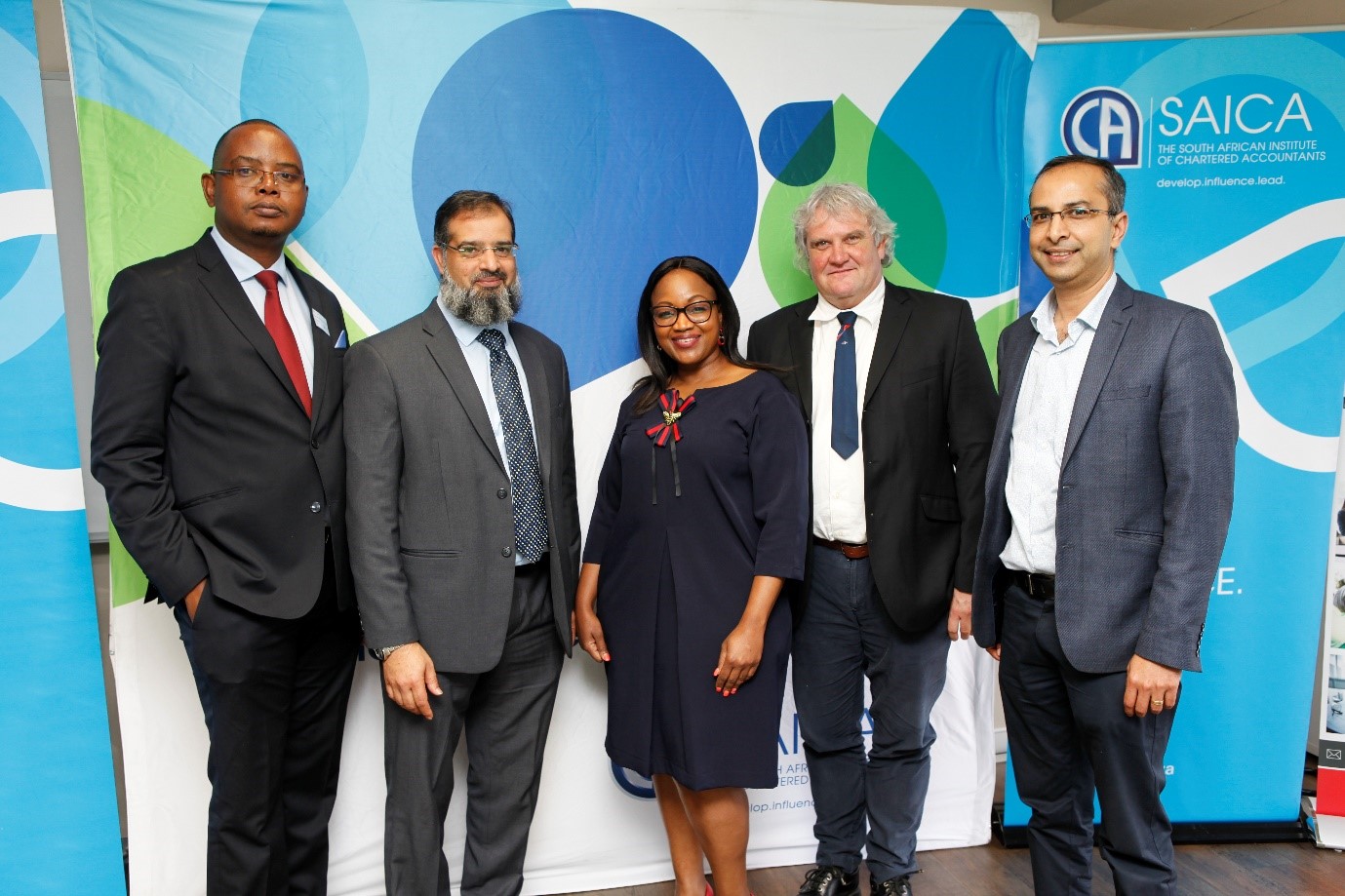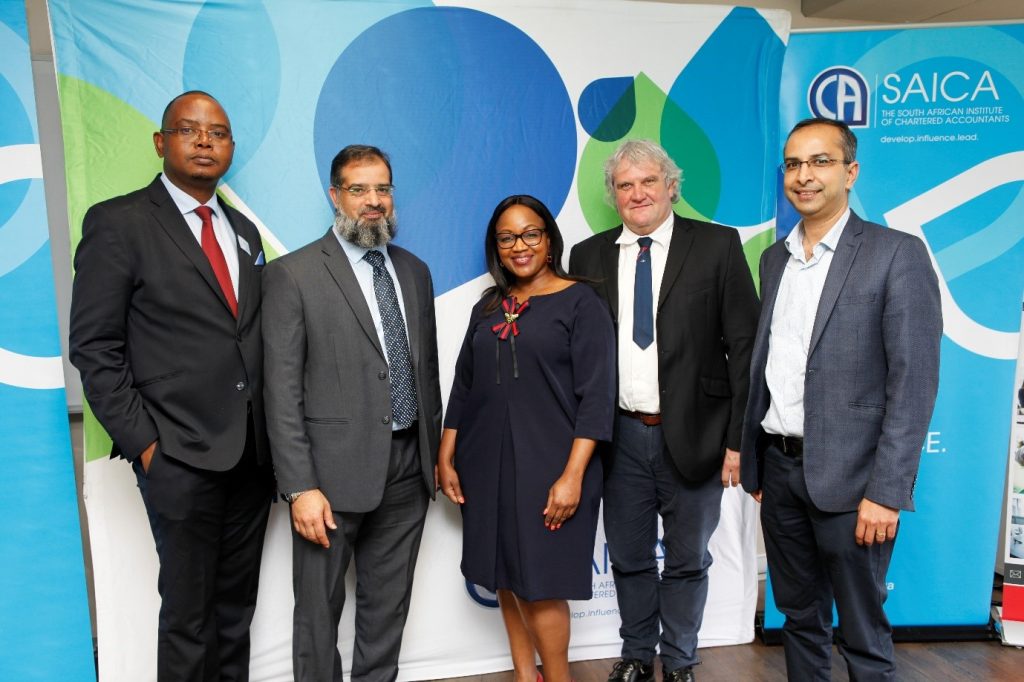 Caption: Ushering a new dawn for KZN tertiary accounting education
(Pictured from left: Prof Mabutho Sibanda: UKZN Economics and Finance Professor; Naeem Asvat: SAICA Regional Executive – Eastern Region; Gugu Makhanya: SAICA Senior Executive – Transformation and Growth; Prof Mark Livingstone: UNIZULU SAICA Accreditation Coordinator and Akash Singh, SAICA Eastern Region Council Representative)
About SAICA:
The South African Institute of Chartered Accountants (SAICA), South Africa's pre-eminent accountancy body, is widely recognised as one of the world's leading accounting institutes. The Institute provides a wide range of support services to more than 40 000 members who are chartered accountants [CAs(SA)] and hold positions as CEOs, MDs, board directors, business owners, chief financial officers, auditors and leaders in their spheres of business operation. Most of these members operate in commerce and industry, and play a significant role in the nation's highly dynamic business sector and economic development.