Honours Week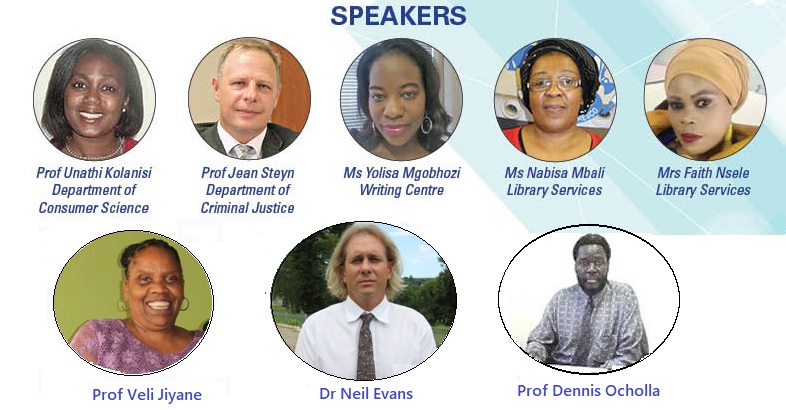 Honours Week in the Department of Information Studies: A brand new multimodal postgraduate learning initiative in the Faculty of Arts
The Department of Information Studies recognises the need for improved ways to support and empower its students for the new multimodal teaching and learning platform necessitated by the COVID-19 pandemic. Hence, the Department virtually hosted its Honours Week on TEAMS from the 28th to 30th April 2021.
The workshop aimed to strengthen the development of postgraduate research by introducing students to the essential "tool kits" and support structures they will be accessing and using during their multimodal studies.  The workshop was opened by Prof A Shokane, Acting Deputy Dean of Research and Innovation, Faculty of Arts. The welcome address was delivered by Dr N Evans, the Head of Department, of Information Studies. His brief and interesting note was on Graduateness in the 21st Century. He provided insights on the attributes that could be ascribed from this 'buzz' word but a crucial term that looks at critical and creative learning, lifelong learning, and being self-directed. He emphasised that for HE graduates to be competitive in the knowledge economy of the fourth industrial revolution (4IR), they needed to achieve specific exit level outcomes before graduating as a postgraduate. The outcomes highlighted include:
Information and communication technology knowledge and skills
Self-directed, lifelong learning skills
Critical and creative thinking skills
Problem-solving skills
Communication skills
Entrepreneurship and employability skills
Organisational and teamwork skills
Research skills and information literacy
Social responsibility and leadership skills
Interpersonal skills
Caring about other people.
Collaborating and working well with others.
Comforting people when they need it.
Clear communication skills.
Conflict management and resolution skills.
Awareness (of self and others).
Cross-cultural fluency
Accountability and ethical standards
All these aspects were nicely unpacked for the understanding of the audience. Concluding remarks were given by Prof D Ocholla, Senior Professor and former DD: R & I. Presenters in this workshop were phenomenal and well-prepared with informative and insightful presentations.
On the first day of the workshop, Ms F Nsele and Ms N Mbali from the Library Services Department presented the topics Know your Library, e-Resources: advanced searches and more, and Referencing Made Easy with Endnotes. The Writing Centre also supported this workshop. Ms Yolisa Mgobhozi took the students through Academic Writing and Proposal Development.
As if the first day was not good and interesting enough, the second day of the workshop was opened by Prof U Kolanisi, the Head of Department, Consumer Sciences, Faculty of Science Agriculture and Engineering. Her presentation was on How to write a Literature Review. She began by providing pointers for these young researchers to see if the study is feasible or not. This was followed by the actual definitions of a literature review from various perspectives. She also emphasised the importance of this section in research. Also discussed were what literature review demonstrates, searching for sources for literature review, where to start writing the LR, and student-supervisor relationships.
On the afternoon of the second day, there was a presentation on Research Methodology by Prof J Steyn, the Head of Department of Criminal Justice, Faculty of Arts.  He pitched on a very high level grounding the Honours students as they prepare for higher degrees. Prof Steyn set the scene by reminding the audience that research is scientific and further explained the two realities that we know: experiential reality and agreement reality. He provided various definitions of research, stages of research and situated the ontological, epistemological, and methodological assumptions under different research paradigms. He ended his talk by presenting different research methodology approaches that complement these paradigms.
The third and last day saw only one detailed presentation by Prof V Jiyane on Ethical Clearance Application, which touched on the importance of this process, the processes followed, and the documents required.
Striving to be developmental, the Department of Information Studies applied a grow your own timber approach in this workshop by identifying Chairs for all five sessions from its own staff members: Ms L Luthuli, Mr N Zungu, Dr P Dlamini, Mr M Mthembu, Ms A Maphotho and Mr M Kekana. The attendees were not only from the Department of Information Studies in the Faculty of Arts, but there were also Honours students from the Departments of Psychology and Criminal Justice, Faculty of Science, Agriculture and Engineering, Faculty of education, and Faculty of Commerce, Administration and Law. At a point, the workshop recorded more than 60 attendees, who appreciated that the recordings and all presenter slides and notes would be hosted on the learning management system (LMS) for future reference and online learning.