2021 FHSS Top Students Honoured by Dean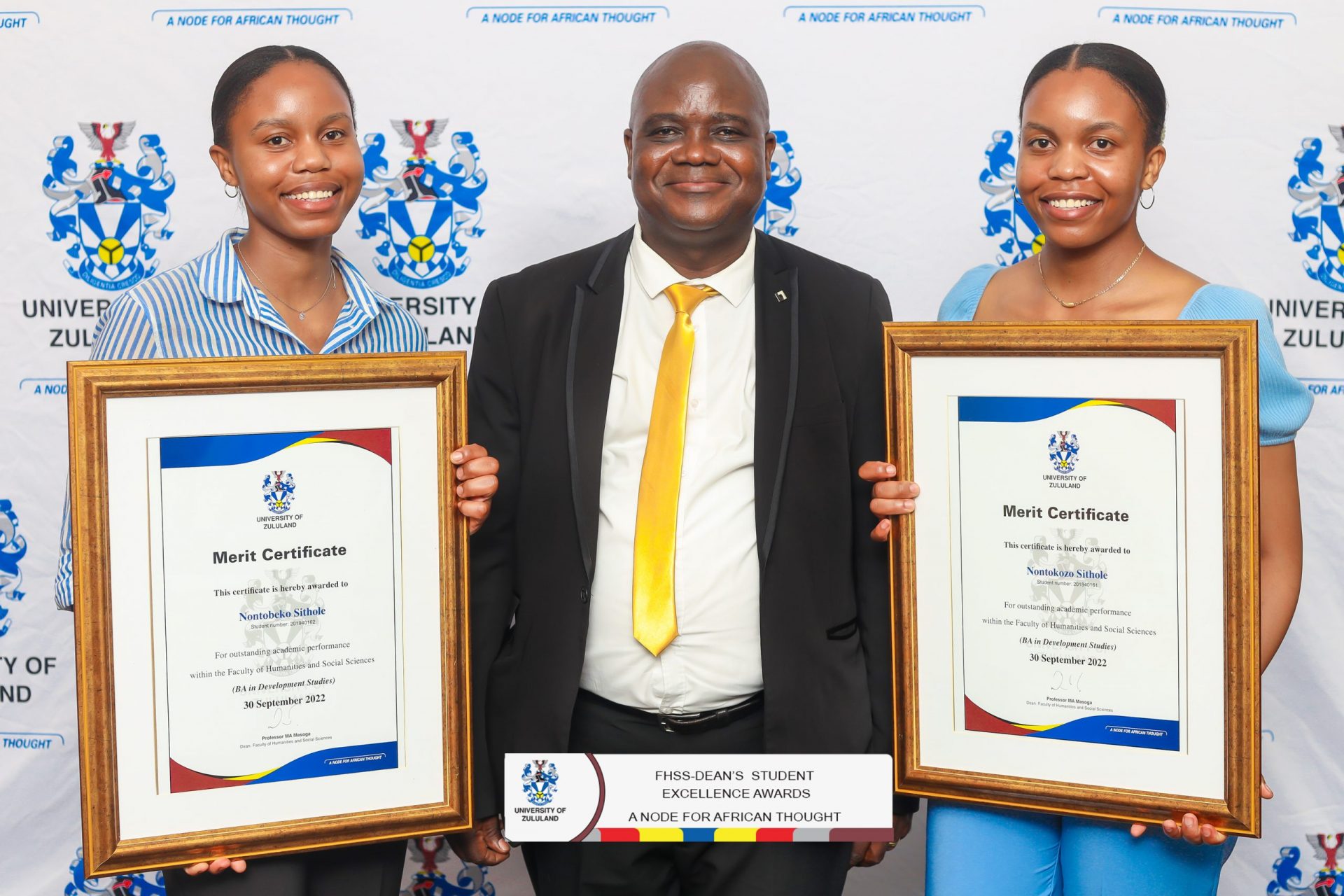 Hard work begets recognition and great rewards. This message was apparent during the recent Dean's Student Excellence Awards ceremony which was held by the Faculty of Humanities and Social Sciences (FHSS) at the Bon Hotel in Empangeni.
Laughter, singing and dancing marked the overall mood throughout the glitzy affair as highfliers in the 2021 master's, honours, third, second and first levels were awarded for their studious behaviour.
Beaming with pride, FHSS Dean Professor Mogomme Masoga expressed his heartfelt congratulations to the students and alumni. "You are very special to us, especially how you've actually shown that it can be done. You are giving hope to a lot of young people out there. I want to assure you that this story will not be a story for tonight only," he said.
He also shone the spotlight on Professor Vuyokazi Nomlomo, Deputy Vice-Chancellor: Teaching and Learning, applauding her for initiating the idea of honouring top achievers across all four faculties. In conclusion, the Dean left the students with a challenge to continue reaching for higher heights irrespective of the challenges staked against them.
Picking up from the Dean's words, Prof Fikelepi Twani, Head of the Department of Creative Arts, told the esteemed guests that "achieving excellence is like rolling in the deep, vigorous waters" as there is so much to learn, do, prepare for and eventually accomplish. She made it clear to the awardees that while embarking on their academic journeys, they may lose friendships, love interests and community neighbourliness. Despite this, the professor said: "I certainly hope that in any challenge that you have faced in your journey, that you have at least a room to salvage what is lost since the saying goes: you win some only to lose some."
"Keep on striving for excellence. You have started it yourself so you cannot fail yourself. I urge you to remember this African proverb as you continue: however far a stream flows, it does not forget its origin because once you carry your own water, you will remember every drop. May you regard these awards as seeds that the University is planting into your careers and lives for a greater harvest in the future," she added.
The wise words uttered throughout the ceremony did not fall on deaf ears. Nkazimulo Langa, who received an award for attaining an overall aggregate of 82% for his master's qualification, confirmed that he would only work harder, especially now that he is pursuing a PhD in Geography. Asked what motivated him to attain such an impressive overall mark for his master's, Langa mentioned his impoverished background and love for education.
"I love education because I believe it is the only key to [a better life] for me and my family. I am the first person in my family to finish matric, get a university degree and now I will be the first to ever obtain a PhD," he said.
Similarly, twin sisters Nontobeko and Nontokozo Sithole who hail from Escourt, KwaZulu-Natal were motivated by their background. The pair was raised by their single mother, a teacher, who made a lot of sacrifices for her daughters. Nontobeko said all she and her sister wanted to do was make her proud. Adding, Nontokozo said the fact that they were studying towards a career they were both passionate also made the processing of studying enjoyable and effortless. Nontobeko graduated in May 2022 with a BA in Development Studies degree. She achieved an overall mark of 76% for her third year. Nontokozo, now in her final year of her BA in Development Studies degree, attained an 80% aggregate in her second year. She is one year behind her twin sister because she took a different academic route when the pair first registered in the University.