2019 MBALI CONFERENCE A SUCCESS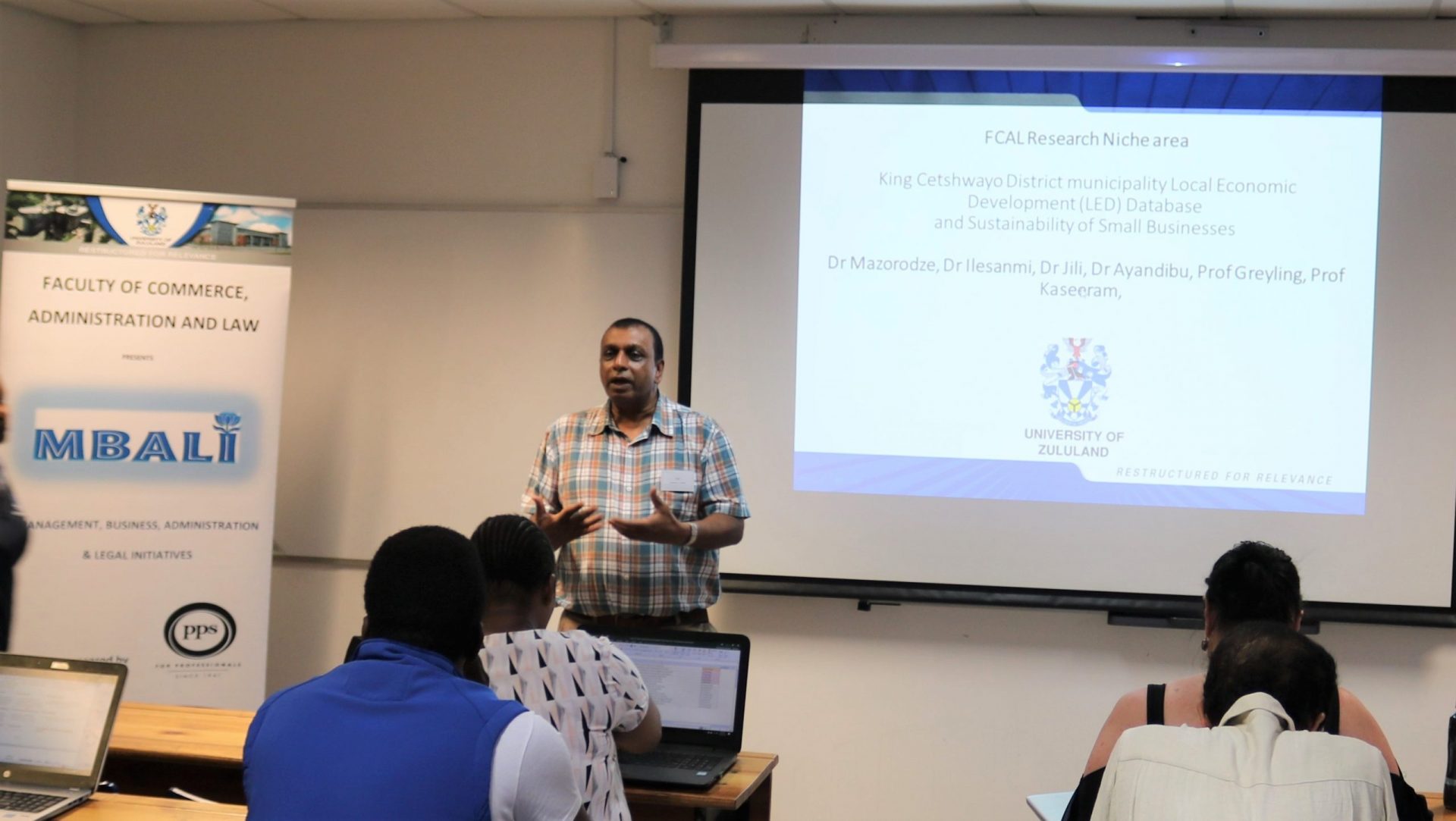 Research is one of the most powerful tools which has been identified in the academic fraternity to be employed to shape and contribute into the existing body of knowledge for betterment of the society. The Faculty of Commerce, Administration and Law (FCAL) at the University of Zululand (UNIZULU) has once again organised an exceptional Management, Business, Administration and Legal Initiatives (MBALI) Conference which aimed to bring staff and Post-Graduate students together to present their research work.
This session began on Tuesday, 3rd December and ended on Wednesday,4th December 2019. This occasion was held at the UNIZULU's Richards Bay Campus.
The event was blessed by the presence of representatives from University of Johannesburg, University of KwaZulu-Natal and staff from other Faculties with the institution. This symposium was packaged to assist the inexperienced students to get useful feedback from knowledgeable researchers who stimulated them to improve on their academic work. They also got a chance to find out on how they can present their research work at National and International seminars and also to be submit for publication to accredited journals.
A preliminary draft on King Cetshwayo District's Local Economic Development Database (Sustainability of Small Businesses) was also presented during this conference.
In his opening and welcome address, Deputy Dean of the FCAL; Prof Irrshad Kaseeram alluded to the fact that this conference will assist staff and Post-Graduate students together to present their research work and will also have an opportunity to engage with the knowledgeable researchers in the field.
"I am very happy about the attendance as this will see young academics presenting throughout theses discussions and I believe after this conference our students will be able to submit for publication and will also be able walk with pride knowing that they are on the right path with regards to research. We realised that this is a form of social constructive learning that is very quick and efficient to pick up valuable and complicated skills in a short time," said Prof Kaseeram.
Speaking to one of the presenters, UNIZULU's Dr. Nokukhanya Jili stipulated that the 2019 FCAL MBALI conference assisted in giving a platform for the faculty to present niche area project which is focusing on Local Economic Development with a strong focus to developing inclusive economy, enterprise development support and governance. "This project is an interdisciplinary project that will involve all the departments within the faculty and some departments in other faculties will get an opportunity to participate and this project is led by Prof Greyling and Prof Kaseeram."
She added by saying, "Secondly, these two days assisted our postgraduates' students within the faculty and there were also students from the faculty of Arts who will to present their work and get positive feedback so that they can improve their papers for possible publications. Staff members who are currently busy with their studies were able to present their work and collaborations with different colleagues was encouraged in order to improve our research output as a faculty and the University at large.''
The National Energy Regulator of South Africa (NERSA) did a plenary sessions and presented on pricing of energy in South Africa and the delegates deliberated on different studies around this topic.
Nhlakanipho Fortune kaNxumalo