17 Distinctions for Tenacious Anita Mkhabela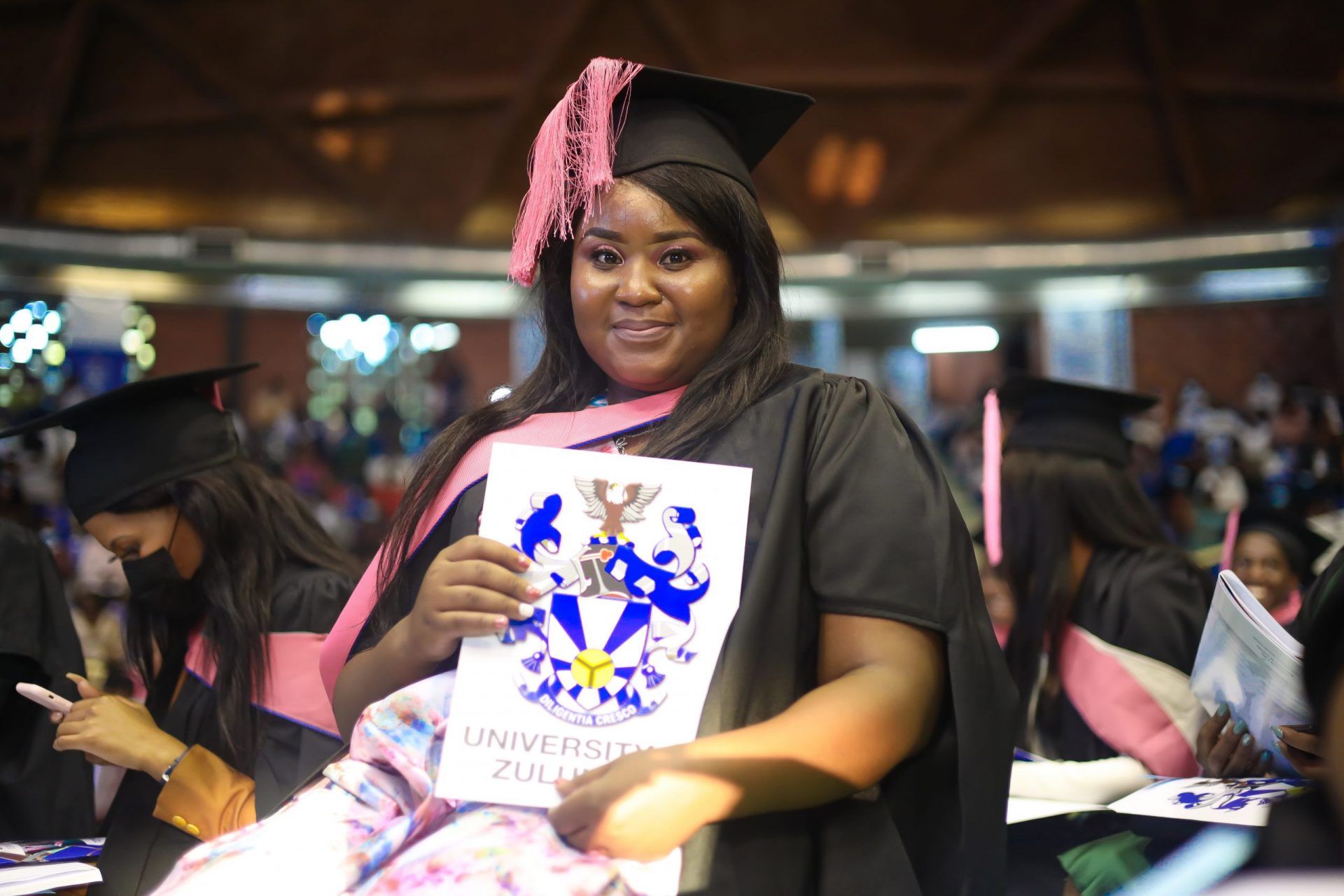 Countless hours of studious behaviour have seen Anita Mkhabela bagging a Bachelor of Education (Foundation Phase) degree along with 17 distinctions.
Mkhabela received her richly deserved qualification on Thursday 12 May at 14H00 at the University of Zululand's (UNIZULU) King Bhekuzulu Hall. She has also made history as he is the first to graduate in her family.
An unapologetic hard worker, Mkhabela said staying up until the early hours of the morning studying had become second nature for her. Her love for the teaching profession also provided the necessary impetus to continue focusing on her studies.
"Growing up, teaching [was] very close to my heart. I have always been fascinated by imparting knowledge to others. I strongly believe that teaching is the mother of all professions [so] I chose to pursue a B Ed in order to do justice to all those that I [would] be of service to," she shared.
However, the journey was not as smooth as Mkhabela had hoped. After completing matric, she was unable to further her studies due to lack of funding. Despite the fact she could not study at the time, she worked for Nembula Restaurant in Esikhawini, Empangeni for two years to put food on the table for her family.
She eventually managed to enrol at UNIZULU through Funza Lushaka bursary programme.
When it seemed as though her life was finally on the right track, something totally unexpected happened. Mkhabela fell and broke her leg while in her first year, a terrible incident that threatened to derail her.
"This really affected me emotionally. I was hospitalised for two weeks. I remember this one time I had to come in a wheelchair to write my exams," she recalled. Even at home, moving around and studying whilst wheelchair bound was incredibly challenging. She used the kitchen as her study area late at night while her family was asleep.
At some point, she feared that she would never be able to walk again. She now has a trigen nail on her left leg which, although a blessing, has rendered her unfit for activities such as jumping.
Having received her degree, Mkhabela is overjoyed and grateful to her parents for their perpetual emphasise on the importance of education, even though they had never been to school themselves. She also thanks her other family members and lecturer for supporting her throughout her journey. Most of all, she credits her own tenacity for this accomplishment.
According to her, the journey has only just begun. She is currently enrolled for her honours degree with UNIZULU because she hopes to one day work as a senior official in the Department of Education or work as an academic in one of the country's institutions of higher learning and introduce herself as Dr Mkhabela.