UNIZULU Academics Break New Ground Through Books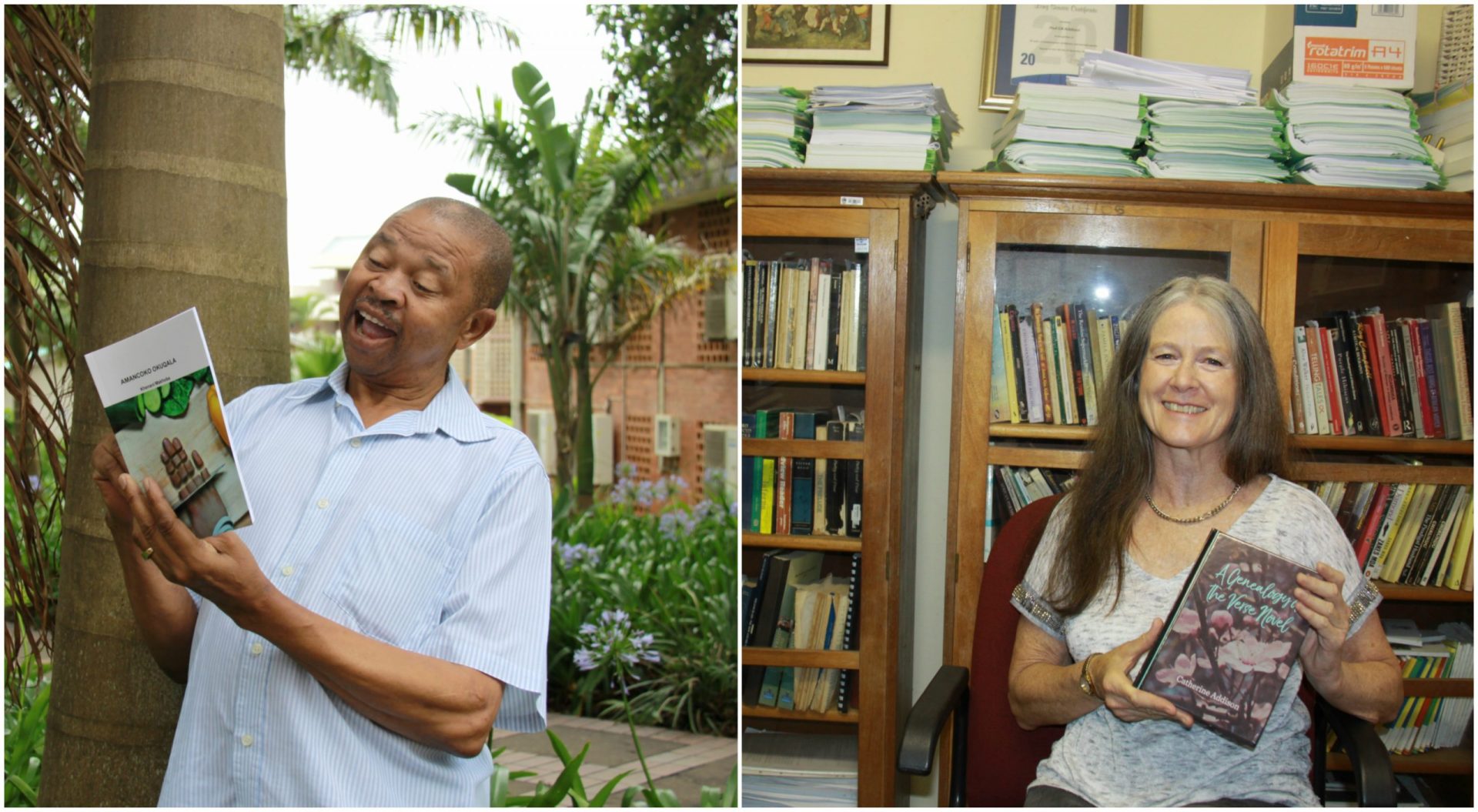 The University of Zululand (UNIZULU) celebrates two of its academics in the Faculty of Arts; Professor Catherine Addison and Khenani Makhoba who have broken new ground as the first individuals to publish books in their chosen genres.
Prof Addison, a Full Professor in the Department of English, published her debut book in September.  Titled: A Genealogy of the Verse Novel, Prof Addison's book is an academic work that covers the theory of verse (poetry) novels and discusses and analyses the chronological historical aspects of this genre. The book was inspired by a talk Prof Addison gave on the verse novel at Hamilton College, New York, in 2004. The writing process began soon afterwards but due to her demanding work schedule, completing the book took more than a decade. She said she found analysing the relationship between the narrative and verse structure most enjoyable. According to her, narratologists (academics who study narrative) tend to focus on prose narratives, neglecting stories in verse.
"When one writes a novel in verse, it isn't just a matter of cutting your discourse into lines. One also provides various other kinds of stylisation, for example metre and rhyme, image and metaphor and this affects the message because when you read a novel written in verse, you hear the 'music' in it. So what I wanted to do in this book was to show how that 'music' affects the story. I feel it is also quite important for narratologists to look at verse structure because a story written in this way actually gives it (the story) a different dynamic," Prof Addison explained.
The most challenging part of writing this book was the editing process as the content was written in different versions of Microsoft Word, Prof Addison said. She is, however, grateful to her colleague, Isabel Rawlins, who assisted her with consolidating all the drafts.
Makhoba, unlike Prof Addison, is a prolific columnist and writer who has a number of IsiZulu books under his name. He has, until recently, only published short stories, poetry and other non-fiction books. His latest work, titled: Amancoko Okuqala, studies the genre of jokes. Makhoba is the first individual to publish a book in his chosen genre in IsiZulu.
A self-proclaimed man of humour, the lecturer in the Department of African Languages and Culture said his love for comedy dates back to his childhood when he and his friends used to engage in ukujovana (teasing). This, he recalls, taught him to be witty. "With jokes, communication is made easier, accessible and understandable to everyone. I sometimes use jokes as ice-breakers when I lecture my students. I find that jokes are applicable to every aspect of life but the trick is in the interpretation. Some jokes may not be funny to some because of language barriers," Makhoba said.
Amancoko Okuqala was published as a result of a Master's degree research project which Makhoba started in 1992 but did not complete as he wound up changing his research topic. He compiled the book strategically to accommodate readers of all age groups, but most especially the elderly and primary school learners. The book covers the theory behind jokes and features a variety of jokes which Makhoba either wrote or borrowed from friends and family members. "I believe that such books would be essential for primary schools as they would encourage children to be more confident to speak in different spheres. But most importantly, I believe that there is always a lesson to be learnt in jokes. Cartoonists like Jonathan Shapiro for instance are a good example of this," Makhoba said.
Professor Gregory Kamwendo, the Dean of the Faculty of Arts at UNIZULU, commended the two academics on their hard work and accomplishment, promising to have an official launch of the books early in 2018.
Mr Makhoba and Prof Addison are available for interviews via ndlovusp@unizulu.ac.za/ (035) 902 6665. High resolution pictures of the two academics are available via the aforementioned contact details.
For a copy of Amancoko Okuqala, kindly email Makhoba at MakhobaK@unizulu.ac.za.
Prof Addison's book is available for purchase at http://www.cambridgescholars.com/a-genealogy-of-the-verse-novel as well as at www.amazon.com.
– Naledi Hlefane
Pictured: UNIZULU's Khenani Makhoba and Professor Catherine Addison who this year broke new ground by being the first individuals to publish books in their chosen genres.